Post #5 in the series Reading Faith and Culture
"More than half of modern culture depends on what we shouldn't read."   – Oscar Wilde.
I know that when I sit down to read, I want to read something that will satisfy. Satisfy what, however, is another matter altogether. Satisfy a cultural curiosity (i.e. just what is that bestseller or persistently trendy book about)? Satisfy a desire to learn, an itch to be challenged or a longing to relax? Satisfy a pleasure principle? Or embark on a sincere quest for spiritual, educational or moral edification?
But what if, after reading book after culturally recommended book (and the Rolling Stones sings up here in my mind) I try and I try and I try but I can't get no satisfaction?
As Roger Pooley puts it, "literature is incurably semantic. It means things, at all sorts of levels, with a marvelous complexity and an equally marvelous plainness."
And when it comes to my love for books, I am an incurable Romantic (literally, as Romanticism is also my field of specialized interest). But more over, just turning the pages of the book itself can be an act of textual foreplay. A compulsion to finish the story, to get that rush, to achieve that sigh, then sit back and smoke that cigarette (so to speak). We are even compelled to finish a sentence. The hypnosis of rhythm, the pursuit of meaning, the desire for closure – all of these draw us on. Along with the complexity and the plainness. This very paradox of God.
How, then, as Christians might we be reading too much into reading? And when are we not reading into reading, enough?
I have greatly enjoyed and benefitted from Tony Reinke's recent book Lit!: A Christian Guide to Reading Books. In his discussion of the theology as well as practice of reading, Reinke identifies categories of why we read (or should read), and just how we can go about finding the right fits to serve that reading. In his philosophical yet practical approach, he highlights reading as a spiritual discipline and as a cultivator of joy.  Page by page, word by word, discerning reading holds the capacity to bring us closer to God. I have turned to Reinke's book as a rich template when preparing upcoming guest lectures and workshops at university campuses, but I would recommend it to all lifetime "students" of literature, or those who desire to read more, or "better."
The Discerning Reader: Christian Perspectives on Literature and Theory is another wonderful book that I also keep within arm's reach. It opens with Pooley's chapter "What does literature do?". I have found Pooley's piece to be a particularly helpful one when it comes to the quandary of what Christians should read or not read – or, put more precisely – how we can best discern the richest reading life to complement and nurture spiritual wisdom?
For instance, when it comes to censorship, or at least to the strong reaction against "transgressive" material that we might call pornography and blasphemy, how can Christians draw helpful, discerning distinctions? Pooley makes a good case for how many especially modern Christian writers have challenged the "norm," citing as an example the experimental nature of Christian poetry by the likes of such as Hopkins and Eliot. Therefore, he asserts, "it is probably a caricature to say that the Christian perspective in the arts comes into focus on when we want something banned – we are found policing the boundaries of the acceptable rather than leading the avant-garde." Yet, as Pooley is also quick to point out, "a protest against transgression will make the headlines, and 'Good book cheers up several people' will not." Alas, so true.
"So what is the difference between pornography and the biblical erotics of the Song of Songs?" Pooley asks. We all at times harbor such questions or comparisons. (Song of Songs is an interesting example when we remember that the pages to this book in the Bible were left uncut, especially for delicate women readers, in the Victorian age). As for Pooley, he answers with answerability; that is, "answerability is a Christian as well as a liberal standard."
As Christians, we need to reflect the glory of God's paradox. We live by faith and yet we also have answers. As we should be able to answer for our faith, we should be able to answer for what we read, and, as Reinke helpfully clarifies, why.
Pooley suggests four principles that I have found helpful in my own discernment process as a reader (and, by extension, as a teacher of literature). He provides these as an outgrowth from the primary question noted by Richard Rorty that should be asked of any text: "What purpose does this serve?" (Without meaning to sound purely utilitarian, I think this a good question to ask of just about everything in life … but that's another post.)
If (or since), as Christians, we are to see "purpose" as validated through faith in God and all its successive consequences (upholding the commandments, loving God and one another, the Great Commission, etc.) then the purpose is at once wonderfully multifarious and yet profoundly singular: a marvelous complexity and an equally marvelous plainness.
Purpose-driven reading sounds like a Rick Warren sequel (!) but there is much to be gleaned from the serious joke. With that in mind, let us return to Pooley's four principles:
Develop a "culture of debate" within Christian circles. Don't simply "not" read something because it has been recommended that you shouldn't read it. Rather, read it but be sure to talk about it (preferably with other believers who have also read it), so as to get some shared sense of its effect.
Adopt the principle of 1 Corinthians 10:23-24, that what damages the weaker person in my group is a more important consideration than my Christian, artistic or creative freedom.
Consider Philippians 4:8, that whatever is just, pure and lovely deserves thinking about (this includes the classical notion of "virtue;" the converse is that thinking on the opposites will have the opposite effect).
We need to be aware of the consequences of the displacement of God to the individual mind and will that is so much of a feature of modernity.
The above principles have given me much food for thought over the years as I have approached teaching literary texts in the classroom and for my own bedside table. And now, Pooley's points increasingly appeal as a parent considering texts for my own young children's consumption.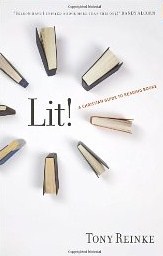 Reinke's book being a perfect example, I have found that principle #1 usually addresses all the others in meaningful ways. For instance, cultivating thoughtful discussion rooted in Christian ethics removes the "fear" of a text to those concerned either about negative repercussions for the faith (such as often experienced in "conservative" Christian circles) or with addressing the faith at all (as often seen in unbelieving circles). Defensiveness, I have found, can reign in each circle.
But is principle #4, for instance, in and of itself, enough? Perhaps insomuch as being aware helps inform our actions, and that action becomes conscientious movement toward, rather than away from, God: The Who (my, I'm full of all sorts of rock bands today) for whom we should be reading, or thinking, or doing anything, for that matter.
I would agree with Pooley that it is important not to misunderstand (nor underestimate) the implication of Jesus' own response to being accused of blasphemy himself. We tend to lose sight of just how radical much of Jesus' statements were. And yet, they were rooted in the old laws and ways: "fulfilling prophesies while confounding expectations of how they were to be fulfilled."
Perhaps the question, then, for the discerning Christian reader is just as marvelously complex and plain as the reading/faith experience itself: an interdependence of what we read with why. Furthermore, I would posit, especially in discerning the why, we will come to know what kind of what really matters …
… and so, when selecting books, discerning Christian readers need to keep in mind (as Laurel and Hardy might say) just WHO comes first.
Photo Credit  © DenisNata – Fotolia.com