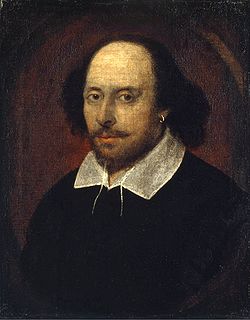 Post #12 in the series I Read Dead People on faith and great literature.  
Please Note: This will be my last post in this installment of the series I Read Dead People. I've enjoyed exploring a few examples from great literature and their implications for my faith walk, and I hope you have, too. While I plan to return to this series in the future, I would like to turn my thoughts for the time being toward literature and the Easter season. I hope you will continue to join me, and I look forward to your thoughts. God bless! 
Author's Name: William Shakespeare
Dates:    1564-1616
Country of Origin:  born in Stratford-upon-Avon, England 
Genres: Considered to be the greatest writer in the English language, Shakespeare was a prolific poet and playwright. He is often referred to as England's national poet and the "Bard of Avon."
Brief Religious Heritage or Association:  The facts of his life are sparse. As a result, only much speculation exists as to his religious affiliations. While some critics have argued that he was secretly Catholic, others have asserted that he was clearly Protestant, and a member of the Anglican Church. Some tow the middle line and say while he was the latter, he held sympathies with the former. Regardless, Shakespeare's clear knowledge and common allusions to Scripture and liturgy permeate his work, alongside a reflection of the religious tensions of his time.
One of eight children, William was born to John Shakespeare, a merchant of some standing. While he probably attended King's New School in Stratford, he had no university education. At 18, he married Anne Hathaway. By 1592 he had gone to London, leaving Anne with the children, where he was already known as a playwright, to work as an actor.
Many of Shakespeare's plays were performed by the most famous actors of his time at the Globe Theatre in Southwark near the Thames River.  In addition to poetry, he finished 38 plays, with additional collaborations, lost works and unfinished or unpublished plays attributed to him. He retired to Stratford to continue to his writing.
Random Fact from the Author's Life:  He and his wife had twins, a boy Hamnet (who would die at age 11) and a girl, Judith (muse for Virginia Woolf's Judith Shakespeare). Great controversy has circulated over whether or not Shakespeare was the true author of all his plays. This debate has dominated much critical history, and has also been the focus of films and documentaries surrounding his life.
Focus Text(s) for Discussion Here: Sonnet 29 of his 154 sonnets, published in 1609.
Suggested Edition of this Text/Biographies/Resources: I like the Oxford Collection of Poems/Sonnets and the Norton editions of collected works, but there are many affordable, compact versions (eg. Dover) that are easy to carry along, so you can dip into a sonnet here or there without lugging an entire volume of collected works around with you. Shakespeare criticism and biography can seem overwhelming: here are a few of my personal suggestions, if you are interested in weeding through a little on some humble feedback: Shakespeare the Thinker by A. D. Nutall (the late Professor Nutall was one of my supervisors at Oxford – a brilliant, warm and very witty man); Shakespeare: The Invention of Human by Harold Bloom (whether or not you are a Bloom fan, worth a read); Stephen Greenblatt's Will in the World: How Shakespeare became Shakespeare; Jonathan Bate and Peter Ackroyd have written critically acclaimed biographies that are enjoyable reads that take into account culture and history.
How this Text has Challenged, Inspired and Fed my Faith Walk: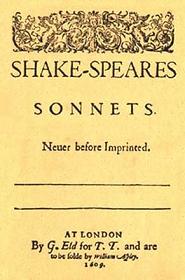 I must admit – at first I hesitated to include Shakespeare in this series. After all, he seems so, well, so famous. So much so, perhaps, as to become cliché.  I also didn't wish to warrant an act of hubris. For who talks about Shakespeare decidedly but Shakespearean scholars, that is, those who have devoted every waking moment to studying reams and reams about his work and life?
But then I realized that this is how folks can feel about the Bible, too.
Like I have had to overcome students' anxiety in the classroom at the "immensity" of Shakespeare, so I have met many unbelievers who have expressed similar intimidation at reading the Bible, especially if they are coming at it later in their lives.
But intimidation (especially the self-inflicted kind), I have found is no excuse for missing out on some of the most beautiful verse and reading experiences ever (not to mention life changing epiphanies, especially in the case of the Bible).
So I'm ending the series, at least this installment, for the moment … with a nod to the, in fact, very real, very genuine genius of Shakespeare. And how his words have made me ruminate on God.
At first I thought was going to discuss a play – the great tragedies, Hamlet, Othello, Lear – of course all these came immediately to mind. So much for rich thought there! And then I rolled around a comedy, or even one of the problem plays that defies a clear tragedy/comedy classification (I have always had a fascination with them).
But then I happened to look over his sonnets the other day … by chance … as a form of procrastination, actually. The kids were busy playing. I had a birthday cake in the oven. Volumes of my Shakespeare lay scattered about my kitchen counter, surrounded by icing and sprinkles and preparations for children's party goodie bags …
This sonnet jumped out at me. And then, uncannily, it appeared out of nowhere several other places, too. Funny how that happens.
It seemed, well, so very personal, and so very timely … like serendipities, and especially the persistently recurring kind, tend to do.
I had to gasp upon reading it, and then re-reading it. Even though I have read it before, in other contexts, at other points in my life, it now resulted in one of those ways that a text speaks to us over the ages, that gives us an electric volt and runs straight from our reading eyes into our very needy, very ready souls. Just like how Frederick Buechner identifies how we know Scripture to be true.
Here is the sonnet:
When in disgrace with Fortune and men's eyes,
I all alone beweep my outcast state,
And trouble deaf heaven with my bootless cries,
And look upon myself and curse my fate,
Wishing me like to one more rich in hope,
Featured like him, like him with friends possess'd,
Desiring this man's art, and that man's scope,
With what I most enjoy contented least.
Yet in these thoughts myself almost despising,
Haply I think on thee, and then my state,
Like to the lark at break of day arising
From sullen earth, sings hymns at heaven's gate;
For thy sweet love remember'd such wealth brings
That then I scorn to change my state with kings.
And here is why it spoke to me, so vividly in the midst of this windy week in March – the outer weather so much like the inner: alternating sunny and overcast, teasing spring warmth and dips yet into frost, gusty winds and silenced moments of pre-budding hush …
It read like a psalm.
This is not the usual interpretation given by critics of the poem. In fact, far from it.
Sonnet 29 conforms to most of the usual aspects of a "Shakespearean" sonnet: it contains 14 lines of iambic pentameter (or, a line made up of five pairs of unstressed/stressed syllables), with three rhyming quatrains (or groups of four lines) followed by a final rhyming couplet (two lines). However, the rhyme shifts a little from the traditional rhyme scheme of ABAB CDCD EFEF GG to, in this case, ABAB CDCD EBEB FF. As a result, our eyes are drawn to the emphasis on the repeated rhymes, in this case the two sets of B's: "state", "fate," and again "state" and "gate."
I note these details because they are significant, I think, in terms of how I see a progression from personal despair to recovery in God taking place in the poem.
The speaker moves from mourning his outcast state and cursing his fate, to realizing, after he thinks about the One he loves, that his true state is actually not low at all, but soaringly high. The simile that follows lifts our state upward with his, as he compares himself to the lark at break of day arising.
The speaker moves from the cares and trappings of "sullen earth" to praise at "heaven's gate," and that makes all the difference for him between the two states: the first of despair and internal poverty, the second of a true wealth so profound he would never want to exchange it for anything.
What good will it be for a man if he gains the whole world, but forfeits his own soul? (Luke 9:25; Matt 16:26; Mark 8:36). And yet the cost of his soul is beyond anything any man could ever pay.
Is this "sweet love" that remembers the sinner on the cross, that asks us to "Remember me" one in the same with that which has redeemed us, which has paid this debt otherwise unpayable?
"For thy sweet love remember'd such wealth brings …"
In the submission of His incarnation and crucifixion, Jesus was mocked on the cross with the title "King of the Jews." But He will wear all the crowns upon His triumphant return.
Wordly kingship, power, prestige … however we wish to read this metaphor … can never hold a candle to the glory of God as the true and only king. And His love brings us into His kingdom, His power and his glory … His everything … forever.
Some critics have read Sonnet 29 as an anti-religious poem, as a poem that asks: where is God? And why does heaven remain deaf to our cries?
Others then claim that once the speaker has realized the emptiness of his human condition, he only finds solace in recalling another human relationship that fulfills his need to be loved.
Because there is nothing in the poem that definitively states whether the speaker is addressing a man or a woman, critics fall on either side of assuming a gendered love object. While traditional views favor a female lover, many other critics assume it was written about "the young man." They use the speaker's depression caused by his social ostracism as fodder for a homoerotic reading of the poem.
In short, there exists much critical debate as to whether the poem expresses love for another man, for another woman, or simply for the solipsistic self.
Moreover, some critics espouse an anti-religious reading of the poem, noting the lack of any reference to God, or maintaining that the poem eventually celebrates a truth superior to religion. Any religious references are, according to this camp, actually anti-religious in sentiment.
And yet, for me, the effect of poem as psalm persists.
The speaker of a poem is not the same as its poet. So if we're going to assume gender anywhere, we cannot even say for certain the gender of the speaker. The speaker's words could just as easily be spoken by a man as a woman.
When I read the sonnet, I empathize with a speaker who cries out to God, who tries to make sense of his suffering and his shortcomings and all of his covetings … and then … it is not until he remembers his "true love," arguably his first love in Christ, that he realizes his own true worth, wealth, power and inheritance.
I am reminded here of John Stuart Mill's definition of poetry: "Eloquence is heard; poetry is overheard."
Poetry is prayer.
And prayer, I believe, is poetry.
The Psalms certainly embody this intertwinement.
When I "pray" this sonnet by Shakespeare, I am brought closer to God.
So often in my day, I envy another's lot, get frustrated with where I don't see any of my efforts or investments coming to fruition. My sphere of influence doesn't seem enough; nor do my possessions. I can never quite fill the emotional bucket with the hole in the bottom, or appease the financial worries, or rest in my gifts and glorify in others.
I struggle with expectations, with things being "enough," sometimes even going so far as to agree with Shakespeare's speaker: "with what I most enjoy contented least."
Yes, sometimes my work doesn't cut it. Or my kids. Or my marriage. Or my friends. Things disappoint. The centre cannot hold. And thus, mere anarchy is loosed upon my little, myopic world (thanks to Yeats here, who still floats in my mind from the last post).
Recently, I enjoyed a witty and insightful essay by Larry Woiwode called "The Faith of Shakespeare: On My Favourite Actor." It is the closing essay in a collection wonderfully entitled Words made Fresh. A lovely contact at my current publisher, Jeff Crosby, sent it to me as a gift, nestled within several other beautiful books (including a terrific one by his own wife, but that's another post :) Receiving such packages is the equivalent of winning the lottery for a bibliophile! And I was richly blessed indeed by his kind remembrance. Yet another example of how books are indeed meant to be shared: that they come alive most in the passing of hands as well as minds.
Woiwode writes of Shakespeare:
"After forty years of reading WS [William Shakespeare] and acting in roles in which I had to memorize pages of his poetry, I came to believe that he, more than any writer in my native tongue, bears an inborn gravitation to God. The will or quest to know God as fully, through others, as WS is able to do, is the enigma that possess us as we follow the actions his words portray to a play's completion." (p. 169)
Woiwode enjoys discussing this exact same sonnet, though he primarily sees it (and quite beautifully so) as a paean to Shakespeare's marriage, in homage to his wife, Anne, and to their life away from the degradation of politics.
If we wipe all the worldly away, however, from the lens of perceiving this poem – if we take away the gender and the politics and the earthly marriage and the irreligiosity – the obvious bears repeating, and certainly requires no apology. If we, in fact, take the speaker's "conversion" at face value, that is marked by the "turn" before the final couplet of the poem itself, something becomes startingly clear.
There is hope for our transformation – from bitterness, sadness, longing, emptiness – into realizing our true re-birth right as a child of God.
This is the final surprise: the grace of remembering.
And this is one of the things the Psalms, I find, do best: placing our erratic selves back into the steady heartbeat of God.
Image Credit:  The Chandos portrait, artist and authenticity unconfirmed. National Portrait Gallery, London