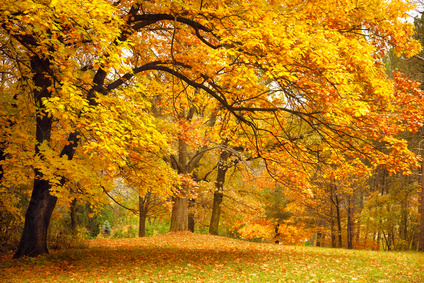 Part One in the Series
Over the next few weeks, I wish to share and briefly comment upon some of my favourite poems for this time of year.
Following my fifteenth wedding anniversary, I am reminded why my husband and I chose this time of year to each be bound before God to our beloved. Autumn offers the season of fruitfulness; its palette is warm and its scents are intense. It marks a season of storehousing hope, of looking both backward and forward, of owning and reaping the fruits of faith.
Autumn takes the last streams of light into the growing dark. It speaks of promises fulfilled and yet also of preparing for the future, as we satiate ourselves with trust as the winds grow colder.
All this considered, then, here is my opening choice for the series: a beautiful poem entitled "God's World" by Edna St. Vincent Millay. Why did I choose this poem? Because I love how it captures the awe at God's grandeur in the world about us. How it settles, like leaves spiraling from trees, from burst of exclamation mark to the period of hallowed peace.
It speaks of having been struck dumb by a poignancy so sharp as to pierce us like a passion. And so it glows with the immensity of both the fruitfulness and the pause that the autumnal season brings in its golden glory between the verdant burst of spring that hazes into summer, and the whitening wait of winter.
Awe has its roots in fear and admiration. Fear of the Lord is the seed of wisdom, so Scripture reminds us. We are right to fear His artistry, around and within us. May you be struck by these words as I have been, and carry them into your heart as sustenance for winters ahead. A poem about attempting to speak the unspeakable, it is … about our being in our world, this world of God's making:
GOD'S WORLD
by Edna St. Vincent Millay
O world, I cannot hold thee close enough!
Thy winds, thy wide grey skies!
Thy mists that roll and rise!
Thy woods, this autumn day, that ache and sag
And all but cry with colour! That gaunt crag
To crush! To lift the lean of that black bluff!
World, World, I cannot get thee close enough!
Long have I known a glory in it all,
But never knew I this;
Here such a passion is
As stretcheth me apart. Lord, I do fear
Thou'st made the world too beautiful this year.
My soul is all but out of me, let fall
No burning leaf; prithee, let no bird call.