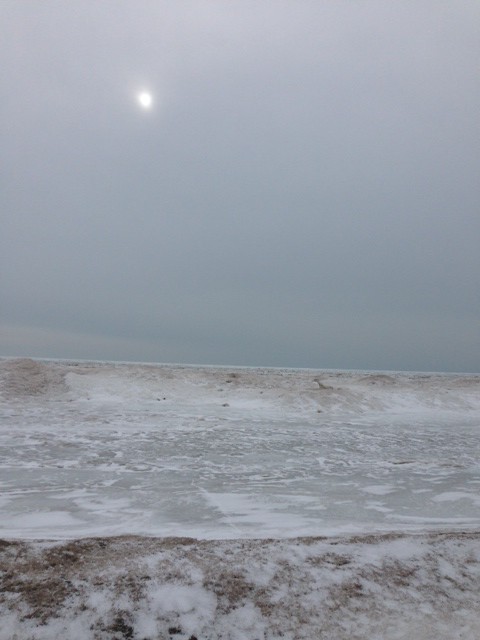 It is Good Friday, the most paradoxical of days. Living the day feels like a contradiction for a Christian, at least, often, for me. On one hand, we hold close the grief of what Jesus did on the cross. On the other, we are to be glad, for it is "Good" – the death of this God-as-man gives atonement for our sins, bridges the otherwise unfathomable gap, His body hung on the cross the strange exclamation mark to "It is finished" and in which we now must live out the conclusion.
Good Friday, the one day in the liturgical year on which I feel the most conflicted. A river runs through it, through me. My core consists of moving currents, most seemingly at odds: despair and hope; degradation and exultation; disbelief and faith; sorrow and joy.
And yet, I must remember that a paradox is merely an apparent contradiction.
Everything whittles down into the pain of this day: my vision falters, and the altar goes dark. We enter Saturday, holy Saturday, a day of in-betweens, suspended in this darkness.
And oh, what a long, long winter it has been this year.
"Now is the winter of our discontent," Shakespeare's famous line from Richard III comes to mind. Indeed, it has been discontenting, the lack of reprieve from chill and snow disconcerting. For us Canadians at large, however, this last winter has been particularly discontenting. The temperatures persisted unusually harsh, the snow relentless. Well into April, cresting onto May, the snow comes yet again, foiling even the robins, and blanketing the peeping crocuses in quiet death.
For me, on this Lenten journey of trust, everything moves in slow motion, including the heralding of spring, stilled, this year, in a muffled chill. I find it interesting that the root for "Lent" comes from the Old English "lente," a pointing toward spring in the lengthening of days. I am reminded, too, of the French for "slowly" – lentement – the slow lengthening of days, but also the slow lengthening of trust. A stretching towards the sun. And stretching always hurts, even if it (eventually) feels good and prevents injury.
Snow in April sorely differs from snow in December. Christmas snow arrives appropriate, even hopeful! Easter snow merely seems cruel. What beauty possibly lurks in such oblivious white to shame spring's green?
When I wake at the start of Holy Week to an unexpected snowfall, my heart sinks. The disappointment is hard to take, especially after the trickster weather had dealt a balmy reprieve just the day before.
Earlier this winter, on the precipice of a new year, I walked along the frozen lake, listening to it crack and moan like some live thing trapped by its own adjustments. The entire beach stretched out quiet and still, except for these haunting sounds. I began to realize, perhaps, the full forefather wisdom of having named this body of water "Erie." It was hard not to think of the lines from The Ancient Mariner, Coleridge's enduring tale:
The ice was here, the was there,
The ice was all around:
It crack'd and growl'd, and roar'd and howl'd,
Like noises in a swound!
This winter, it seemed there was no escaping the ice. Nor was there escaping the sounds from within.
In another name-appropriate moment, I recently came across the words of Fr Robert Wild (what a wonderful name, Father Wild! – especially given that his writing is beautifully, even genteelly fierce as well):
"Every snow crystal is hexagonal but within this basic six-sided shape there are endless intricate permutations and combinations so that virtually every flake is unique. What is the return on investment on such a colossal production? Is there some underlying beauty about reality that has to constantly manifest itself?"
I return to the window and try looking at the snowy vista with new eyes. In my disappointment, in my decision to see the world only as I wished to see it, and in the time I thought it best to see it, was I missing this Wild beauty? This far flung grace?
Was I missing God's idea of the seasons, His hand at work in the inner as well as outer weather?
As Holy Week draws to a close, I ask myself: What Good is this Friday which only seems to moan in pain, cry out in forsakenness, sip from the bitter, then declare with dying breath that nothing else is to be done? Is this how I want my week to end?
But on this Friday end it does, and the Body is not broken but pierced. Then wrapped up. Put away. Locked in the dark.
In the heart of my darkness, a dear friend's package arrives. On a keychain, a child's verse is written – the old legend Mr. Beaver shares with the Pevensie children in Narnia from C. S. Lewis' The Lion, the Witch and the Wardrobe:
Wrong will be right
When Aslan comes in sight.
At the sound of his roar
Sorrow will be no more.
When he bares his teeth
Winter meets its death,
And when he shakes his mane,
Spring shall come again.
Words, indeed, on which to keep my key.
I am waiting for my daughter to sing in the Tenebrae service tonight. Tenebrae – the Latin for darkness or shadows; what has become associated with the liturgy for remembering Jesus' crucifixion. As the sun sets outside the window, the shadows lengthen across the room. Everything is lengthening. Everything is waiting. Everything is pulled taught, pulled past breaking, leaning, yearning …
My daughter's sweet young voice will lift up from the shadows, with other sweet young voices. Do they know of what they sing? Do I have ears to hear?
I am waiting in the big old church. It is not our usual church, the one with the modern auditorium, a converted public library in the diverse part of town. No, this is the old United church, sitting in all its stately silence at the center of a bustling downtown. It is surrounded by grand Victorian homes, almost all now serving as offices and restaurants. This part of town is hip and chic and carries itself with no need of a redeemer: it creaks, too, under its adjustments. The huge, beautiful church looms over its handful of a congregation. I can't help but think, too, of Philip Larken's poem "Church Going," and the double-edge to his title – our compulsion to go to church, but its growing disappearance from our culture – this chasing of something we crave but cannot name. Is it even worth keeping these buildings? But it only takes a faithful few, as the foot of the cross shows us.
In search of a quiet place to sit, I have wandered upstairs while they are practicing downstairs. In this ginormous building, I am sent along a labyrinth of hallways, pass a myriad of rooms. Each door I try, however, is locked. Not a single one will yield to my retreat. I circle the mammoth church twice, feeling the cynicism rise in y chest at being shut out by every door within a church.
Come, and I will give you rest, I hear my inner voice mock.
The mocking of Jesus – from Matthew chapter 27. The passage I am to stand and read at the service tonight.
Who has drunk of the bitterness extended on hyssop? The thought now mocks me.
I circle the church a third time, but this time I trace its innards with purposeful hope of finding an unlocked door. In other words, I retrace my steps now with faith. Still, each knob I meet with rattles in my hand but will not budge. Instead of panic, or rage, or desperation, or cynicism now, however – all these other daily deaths, I now see – I cling to life, to faith, to the promise that a door will open.
When I reach the far corner of the top floor, I see again through the door's glass what seems to be the most comfortable room in the entire building. A cozy loft full of sunlight and overstuffed chairs! How many times have I tried to enter this room, but it sits locked shut. And even on this recent revisiting, twice now, about to be thrice, the door will not open. How lovely it looks in there – I pine through the glass. Such a good place to sit, to retreat, to be quiet, to, well, be.
To my right, I see a little broom closet, its door is wide open. My glimpse assures me its full of garbage and cleaning aids. I saw this open closet before, but passed by. This time, however, I turn and enter it. I can't say exactly why … what I was expecting to find, or why I would give it a second chance? But as the story of Solomon's own birth shows us, and fortunately for us, too, wisdom is born of second chances.
I enter the room without judgment, without expectation – with only the faith caught in my throat, the taste of bitterness but the refusal to ingest it. The room is very small, I can barely turn around in it. But when I do, I see that it affords a secreted back door to a luxurious room, and this door is wide open!
My heart leaps! I take my tea, and my bag of books, and my Bible, and I sink with glee on the magnificent couch! I consider the week: the holy patterning of creation from the beginning of time. Our days counted in sevens.
G.K. Chesterton wrote the following poem in one of his notebooks from the 1890's:
Monday is the day of Light.
Tuesday the day of waters.
Wednesday the day of the Earth.
Thursday the day of stars.
Friday the day of birds.
Saturday the day of beasts.
Sunday the day of peace: the day for saying that it is good.
Perhaps the true religion is this, that the creation is not ended yet.
And that what we move towards
Is blinding, colossal calm
The rest of God.
The music of children singing soars up from below, and the birds are chattering outside with the end of day. Birds …
Friday, the day of flight!
High windows flood the comfortable room with light, and I feel the peace, not only of retreat, but of faith affirmed, if only in seemingly silly trust that a door will be found, open.
Nestled comfortably in my seat, I notice a blue box marked "Discussion Questions" on the table next to me. The words from Matthew 7:7, obviously penned by a child, stand out in black ink:
Seek, and ye shall find …
And with eyes seeking the darkening room, I find that this Friday is Good.