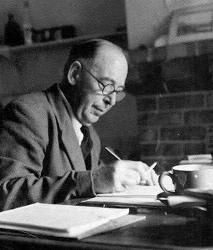 Post #6 in the blog series "I Read Dead People" on faith in great literature and the journey of the soul
Author Name: Clive Staples Lewis
Dates:    1898-1963
Country of Origin: born in Belfast, but moved to England, where he owned a long career as professor of medieval and Renaissance literature at Oxford and Cambridge Universities 
Genres: Lewis wrote across an astonishing range of genres, including fantasy, science fiction, fiction, memoir, essays, academic studies, letters and children's literature. Much like with Tolkien (author of Lord of the Rings, for instance, and friend of Lewis), I find friends of my who were fans of the Chronicles of Narnia classics (such as The Lion, The Witch and The Wardrobe) as children, are amazed to discover he also wrote Christian apologia in an intelligent, yet often witty and highly accessible style.
Brief Religious Heritage or Association:  As Alister McGrath puts it, "If Lewis ever had any kind of Christian belief to start with, he soon lost it." His mother, who apparently did own a strong faith, died when Lewis was a young child. After serving in the British Army during the First World War, he attended Oxford and stayed on as a professor. In the 1920's he reconsidered his faith, and converted to Christianity.
Random Fact from the Author's Life:  Lewis entitled the story of his conversion Surprised by Joy – well before he had even met, and then married, the love of his life, Joy Davidman – like I always say, you can't make this stuff up! He died at his Oxford home on November 22, 1963, only a few hours before the assassination of President Kennedy in Dallas, Texas.
Focus Text(s) for Discussion Here: Till We Have Faces (1956) – a novel, and the work of which Lewis claimed to be most proud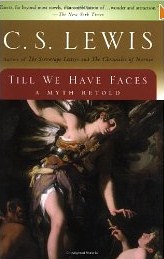 Suggested Edition of this Text/Biographies/Resources: I used most recently the Harcourt edition, 1984, of Till We Have Faces: A Myth Retold. I've long appreciated Alister McGrath's succinct yet beautifully written biographical essay on Lewis in his collection A Cloud of Witnesses: Ten Great Christian Thinkers. McGrath gives a great overview of Lewis that is scholarly but utterly enjoyable; it also situates his life within the context of other contributors to Christian thought. Those seeking a longer, more sustained biographical foray might enjoy Chad Walsh's two books with different slants: C. S. Lewis: Apostle to the Sceptics, and The Literary Legacy of C.S. Lewis, as well as Roger L. Green and Walter Hooper's C.S. Lewis: A Biography. But if you haven't read it, I strongly suggest experiencing Lewis's life and conversion in his own words, in his memoir Surprised by Joy.
How this Text has Challenged, Inspired and Fed my Faith Walk:
In his retelling of the Cupid and Psyche myth, Lewis assumes the voice and point of view of Orual, his version of one of Psyche's older sisters. He makes her a fascinating character, not just merely the "evil" stepsister prototype usually so easy to punish in the end, and dismiss. Rather, Orual, the ugly and masculine (or at least almost androgynous) sister adores Psyche from her very birth, but with a self-consuming love. When Psyche is sacrificed by her father and left for dead, Orual is devastated, but eventually hardens herself and becomes the future queen of Glome, the barbaric, pre-Christian world that sets the stage for the story.
Orual carves an impressive figure: a virgin queen, she grows to overpower her tyrannical father the king and inherit the kingdom, ruling with confidence, acumen and the respect of her people (especially noteworthy as a woman in her time). Ashamed of her ugliness, however, she insists on living with her face covered. While this only serves to empower her outwardly, in terms of her effect of fear, mystery and greatness among her company, it becomes an important central metaphor for the story: a mask for her true insecurity, and a veil to her great inner sadness and loneliness. Slowly, she "kills" the Orual girl-child within her in the determination to become only the politically apt and highly functioning Queen.
She journeys in search of Psyche some time after her sacrifice, hoping to find her sister's bones and at the very least give her a proper burial. Orual's dedication to Psyche is touching. She is often fearless when it comes to serving her and trying to protect her while growing up, and then when she is helpless to prevent the sacrifice, travelling (as a woman) into unsafe territory to retrieve her body. When she discovers that Psyche is alive she is overcome with genuine joy. But then she rejects her for a madwoman when she cannot see what Psyche claims is all around them: the palace of Cupid, and the brilliance of the god's love who has taken Psyche as his bride.
Certain that Psyche has grown crazed from her wanderings, or that perhaps a vagabond or criminal out in the mountains has seduced and confused her, Orual tries to convince Psyche to abandon this new husband and return home with her.  When Psyche refuses, the sisters actually physically wrestle. Psyche is the stronger one, however, and Orual must let her go. Psyche begs Orual to return to her, to allow her to try and gain Orual's ability to see the palace from the god in the meantime. Orual returns home, and becomes only the more convinced of her sister's madness by her daily life there and her (even if well-intentioned) trusted counselors.
When she ventures back to meet again with Psyche, Orual's envy bubbles forth (it seems spiked at first by Psyche's sexual fulfillment, but this, too, "masks" her actual desire for the love, or trusting relationship, Psyche has found with this god). Orual brings the lamp and oil, and puts her sister to the test of killing her unseen husband. When Psyche refuses, Orual accuses her of being afraid of the test, to which Psyche replies, "I am afraid – no, I am ashamed – to disobey him."
Orual responds with emotional blackmail. She threatens to kill herself, and then stabs her own arm through. The scene is a powerful one (Book I, Chapter 14). But Psyche stays calm, and binds up the wound.
Orual notices that: "The look in her face now was one I did not understand. I think a lover 0 I mean, a man who loved – might look so on a woman who had been false to him."
"Tortured into her disobedience," Psyche agrees to take the lamp and oil.
"So I had won my victory and my heart was in torment. I had a terrible longing to unsay all my words and beg her forgiveness. But I held out the dagger," Orual tells us.
For the rest of her life, even as her political power increases, Orual grows less satisfied with her life, and more haunted by her betrayal of her sister. Later, she hears a villager tell the tale of Cupid and Psyche. Although his version owns flaws according to her insider knowledge, it does strike her that the sisters in the tale fully recognize the palace as a very real place. She resolves to write a book – this two-part book, then – to set the story "straight:" that the sisters were not just horribly jealous and inhumane. But as we read the story we see her writing from inside and outside the story. In this way, we see how she does indeed prove the myth "true" after all.
As Orual grows older, her insights into herself begin to grow. She starts to admit her desire for love, her regrets, and her jealousy of others. She finally reveals her face. And she endures such revelations as "anger wearies itself out and truth comes in."
Toward the end of her life – whether it is a dream, or the easing into her earthly death – Orual has a vision in which she stands judgment before a court of spirits. She thought she was carrying a bowl, but it turns out to be her own book, a list of her "complaints against the gods." It's an amazing scene, where instead of judgment, she is met with …. Grace. And in this speaking of herself, to be truly heard, she finds her real voice.
This queen so desperate for acceptance and love realizes that all her words until this point have meant nothing:
"the complaint was the answer. To have heard myself making it was to be answered. Lightly men talk of saying what they mean … When the time comes to you at which you will be forced at last to utter the speech which has lain at the center of your soul for years, which you have, all that time, idiot-like, been saying over and over, you'll not talk about joy of words. I saw well why the gods do not speak to us openly, nor let us answer. Till that word can be dug out of us, why should they hear the babble that we think we mean? How can they meet us face to face till we have faces?"
A beloved soul from this afterlife, her "grandfather" figure from childhood, speaks to her from the specters around her as she embraces him, noticing he is real and warm. He has come to bring her to her true judges now:
"My judges?" she asks.

"Why, yes, child. The gods have been accused by you. Now's their turn."

"I cannot hope for mercy."

"Infinite hopes – and fears – may both be yours. Be sure that, whatever else you get, you will not get justice."

"Are the gods not just?"

"Oh no, child. What would become of us if they were?"
Yes, what would become of us?
Orual realizes "I could mend my soul no more than my face." We try to cover our blemishes, inside and out, for myriad of reasons. To look the part the world requires of us; to survive emotional pain and deprivation; to go along with life at half-mast. But this masking all points to the same thing: our futile attempt to create a life outside of being God's beloved.
As this story shows – in this compassionate and challenging retelling by Lewis from the point of view of a split-soul – when our fragmented selves are brought back together through grace, we become capable of seeing Love for what it really is, and for how it abounds, and will overcome.
Grace makes absolutely no sense. Grace trumps karma. It cannot be counted, and it cannot be rationalized. It cannot be summoned or willed or fathomed or plumbed. Or even, by us, spoken.
So, to quote Orual as she reunites with Psyche, and in fact, the two sisters blend into one beautiful and everlasting being: "Joy silenced me."
We are all Psyche. We are all on this journey of the soul. All of our vanities and insecurities, all of the exhausting and emptying self-dying gets washed away and set clear and bright and new in Christ (the archetype of all archetypes, at the center of every savior and all acts of Love in every story, ever told).
We can accuse and blame and dodge and dismiss. We can even use love to ill-intentioned ends. We make golden calves of everything except that which we should serve first – even of careers, gifts, ministry, family members, of dear ones, even of things that might otherwise seem noble and well-intentioned. We are not safe from ourselves. Even in positions of worldly power, we are powerless, without salvation from ourselves.
I want to leave you with Orual's final words, as she closes her two-part book while dying:
"I ended my first book with the words no answer. I know now, Lord, why you utter no answer. You are yourself the answer."
May all our lives be two-booked: a birth, and a re-birth.
I am grateful to C. S. Lewis for so many things. But perhaps most for this reminder of a response.
RELATED POSTS IN THE SERIES
John Milton on Sin in Paradise Lost
William Blake on the Poison Tree
The Bible: Compelling Creative Non-Fiction