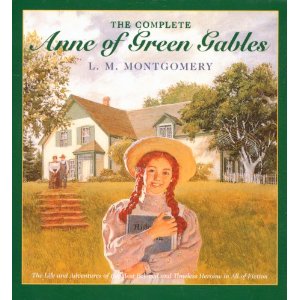 Post #5  in the Children's Chapter Book Read-Along Series
As a child, I loved to play school, and I loved to read and write. In regards to the former, I used to bribe my younger sister with copious amounts of stickers and candy into sitting still and being a pupil. Fortunately for me, Kelly was quite happy to sit there and munch away while I stood at the front of our "classroom" (usually our bedroom, or at the head of the picnic table in the backyard on those humid summer days) while I lectured her on ABC's and 123's.
I also loved regurgitating information I had learned from school: how acid rain occurs, the passage of fur trappers along the Great Lakes and through Hudson Bay, mysteries surrounding the sunken island of Atlantis, the solar system and the life cycle of frogs. So many delights and insights to share! In imitation of my teachers, I would hold a coffee cup in one hand (or a mug full of water, in my case), a piece of worn chalk in the other, and pace the room like a great sphinx, bursting with riddles to unravel. With schoolmaster primness, I printed neatly on our broken piece of chalkboard, propped up beneath the effusive spider plant hanging from the window or dragged outside onto a patio shimmering with summer heat and streaked with popsicle juice.
Most likely because of the content compliance of my baby sister, teaching came relatively easily. Whenever I rewarded her spelling sheet with a precious scratch-and-sniff sticker, she would beam up at me with eternal gratitude and pure, unadulterated adoration. The effect, as any teacher will tell you, can be intoxicating. From then on, hooked indeed was I on the calling to teach and (hopefully) the privilege of impacting lives for the better with the joy of learning. Eventually, I would go on to a very rewarding teaching career.
The writing, I would discover, came harder.
As a child, I was a voracious reader. Partly because I got hooked on constantly having an alternative reality in my head – a reality, I found, that complemented, complicated and always helped me navigate the other "reality." Without much prodding, I grew to love how a story grows in your head and your heart, how it stays with you long after you turn that last page and close the cover. I found myself missing the characters I had lived so intimately with over the past few hours or days. I longed to know more details about the story, how the plot might continue or how a certain character might now react to something I was facing or thinking. Put another way, I couldn't shake the magic, nor did I want to. And, even as a small child, I was beginning to realize how the power of story allows you to trail the magic from your finger tips as you go from turning pages to turning days: as you yourself grow in a story and through a life.
The other reason I began reading early and often is partly because I didn't know any other way of being, I guess. For as long as I could remember, my mother brought books to us, and us to books. Anytime we visited anywhere, for instance, we visited that place's local library. Entering its cool annals during summer vacation is as familiar to me, and consequently as healing, as drinking a tall cool glass of water on a sweltering day. My mother kept meticulous scrapbooks filled with poems, letters and excerpts she cherished. Tucked inside on many a blustery day, too, we would sit with these great tomes spread open on our laps, pouring over the treasures she had collected. We ran our fingers over the often yellowed paper, marveling at the accompanying photos and newspaper imprints, captivating in their antiqueness (at least to us children).
By the time I arrived in the first grade, I had already changed schools several times due to pressing family circumstances. In the first few months of Grade 1 alone, I had moved twice. As I stood at the front of my new classroom surrounded by Hallowe'en decorations, a sea of scrutiny rose up in front of me. What would the new girl bring to show and tell? I could see my classmates' faces wondering.  I froze with more than Hallowe'en fear.
The teacher coughed and shifted on her seat, prompting me to get started. "Well, Carolyn, what did you bring to share?" she asked me again. I looked down at the rainbow journal shaking in my hand.
"I brought a story," I mumbled.
"A what?" she asked. "Please speak louder."
"A story," I said, pulling myself up with my voice.
"Oh," the teacher replied in exasperation. "You were supposed to bring something you made. That was the theme this week. Didn't you remember the assignment?"
"Yes," I stammered. "But I wrote the story."
"Oh," was all she said. Again. "Well, then, you may begin."
I read the story aloud, each word taking every ounce of confidence I had. To this day, I hold a great sympathy with those who are shy about public speaking, and an even greater compassion (and admiration) for those publicly sharing their creative work. Very little matches such vulnerability. I often think about this when I consider the honor bestowed upon us by a God who set us in the midst of His creation. And I shudder at our all-too-often dismissal of it, or even worse, defamation.
Later, after class, the teacher took me aside, wanting to know where I had truly gotten the story. She didn't believe me when I insisted I had written it myself. It wasn't all that great, I'm sure, but I did have an unusual vocabulary for my age, I suspect, given my mother's influence. When I showed her my penciled pages, this rainbow journal painstakingly filled with great looped letters, she sniffed. "Bring something else next time," she announced, towering over me.
"Okay," I conceded, terrified, and yet oh so eager (especially as the new student) to please. "But what?" I feebly asked. "You wanted us to bring something we made. I make stories, or pictures." I wanted to be sure to get it right next time, but I also didn't have a lot of homemade options, from my point of view.
She bent down and looked straight at me: "Bring anything. Just don't bring words."
That day, I meandered home, hurt and mortally (for a child) offended. I couldn't believe she didn't believe me. And while the anger did rise up, fear and sadness, however, tidal waved over it. I snuck into my bedroom, slid the journal of too many colours into my desk drawer, and locked it away.
I didn't write again for a long, long time.
Fortunately, I have had far more fantastic teachers than inane ones over the years. Such discouragement as I received in first grade would actually prove to be an anomaly in my educational path, thank goodness. But the stamp stuck, so to speak. And it would be a long time before I worked up the courage to walk through the wardrobe door, or the looking glass, again; years in fact before I dared travel between these worlds of words – a landscape shift I used to manage so deftly, in the same spirit of childhood that the Lord reminds us we must own to enter the Kingdom of Heaven.
Canadian author Lucy Maud Montgomery published her novel Anne of Green Gables in 1908 and it has remained a bestseller ever since, complete with sequels and film adaptations. The story offers a female buildungsroman of sorts, in which the heroine, Anne Shirley, grows from an awkward and outspoken orphan into an accomplished and articulate teacher and writer. The aging brother and sister Matthew and Marilla Cuthbert request a boy from the orphanage as a farmhand. Instead, they receive the imaginative, dreamy and fiery red-headed Anne. Adventures ensue, ranging from the comical to the tragic, but always touching and poignant in their ability to make us, along with the earnest Anne, discern more about human nature. Underpinning the entire narrative runs a concern for what is right, and what is righteous, and yet the narrative style never approaches the preachy or insincere. Instead, we grow to love Anne, and to love others, through a very real and therefore still very relevant exploration of forgiveness, friendship and love.
In Anne, this loquacious and literature-loving heroine, I long ago found a "kindred spirit." She remains a fellow lover of words, and someone who also takes delight in the natural as well as literary worlds. Returning to these hallowed pages now having weathered many words myself, I still feel the magic trailing like a comet through the story and, by proxy, through to my very finger tips, as I touch and am touched by the story. Such characters give me character; their deliberate development and adherence to such important principles as loyalty, perseverance, the love of beauty and truth, and a genuine pursuit of justice, mercy and goodness. Such characters embolden me to bring on the words, and to bring in God's Word.
Simply put, Lucy Maud Montgomery's timeless classic reminds us of how God gives each of us the benefit of the doubt, which is simply another way of putting "faith."
A person's faith in God is a beautiful, precious thing. But God's faith in us? That seems unspeakably mysterious: undeserved and unfathomable. The gift of grace that astounds and profounds us into more meaning than we can ever contain merely in our two hands, let alone two hemispheres of the brain, or two chambers of the heart.
Do childhood passions point toward adult gifts?
"The child is father of the man," professes the poet William Wordsworth. This child knows the way to the Kingdom of Heaven within. This child holds the promise of God's purpose and plan: "For you created my inmost being; you knit me together in my mother's womb" (Psalm 139:13). In these childhood dreams – in that which we take delight and sense how we might be gifted – we glean our future in God's purpose for us.
Romans 12: 6-8 tells us that "We have different gifts, according to the grace given us.  If a man's gift is prophesying, let him use it in proportion to this faith.  If it is serving, let him serve; if it is teaching, let him teach; if it is encouraging, let him encourage; if it is contributing to the needs of others, let him give generously; if it is leadership, let him govern diligently; if it is showing mercy, let him do it cheerfully."  If you labour from this passion, you will (as my mom likes to say) never work a day in your life.  Our gifts – like little points of light of our passion – arise from our faith, respond with love to our fears, and move us through the "terrible beauty" of living the unanswered question with all we've got.
Montgomery's words offer a reminder of the importance of holding on to your joy and cultivating that wonder – for yourself and for others – that is praise at its purest. A praise which protects, preserves and promotes the precious. And which is not locked away in a drawer or kept captive in a grave. For "Neither do people light a lamp and put it under a bowl. Instead they put it on its stand, and it gives light to everyone in the house" (Mt 5:15).
As I turn off the bedside lamp and kiss my daughter's head, I cherish how a Good Story – this bringing of words in the sincerest form of show and tell – still continues to illuminate the night.
Questions to Consider:
Which interests did you delight in as a child?
How have those passions shaped you, or how would you like to bring them back into your life?
How might they reflect or point to a further calling before God, or a better understanding of the Holy Spirit at work in your life?