Post #6  in the Children's Chapter Book Read-Along Series
Charlie looked down at the candy bar. He ran his fingers slowly back and forth along the length of it, stroking it lovingly, and the shiny paper wrapper made little sharp crackly noises in the quiet room.
Then Mrs. Bucket said gently, "You mustn't be too disappointed, my darling, if you don't find what you're looking for underneath that wrapper. You really can't expect to be as lucky as all that."
"She's quite right," Mr. Bucket said.
Charlie didn't say anything.
Roald Dahl's 1964 children's book Charlie and the Chocolate Factory tells the story of young Charlie Bucket, who after discovering a winning golden ticket in a chocolate bar, becomes one of five children to win a tour of the largest and most mysterious chocolate factory in the world, owned and operated by the eccentric genius Willy Wonka. Charlie comes from an extremely poor background; we feel his hunger, and later, his complete elation, at having found one of the prized tickets and the opportunity it represents.
Oh yes, did I mention that each child also wins a lifetime supply of chocolate?
The story is a child's dream, as well as a pregnant woman's who may be reading it to a child. Where else do you get to imaginatively immerse yourself for page after page in one decadent treat after another (besides, perhaps, in my fondue cookbook)? Just reading Dahl's book itself conjures the slow melt of chocolate on the tongue. Perhaps the only pregnancy food better than a Willy Wonka "Scrumpdiddlyumptious" candy bar is a Cheetoh dipped in chocolate (thanks to my friends the St Johns for this comforting image, and the provision of the combination, albeit in still separated forms, but on a generously regular basis).  But I digress, much like the maundering Willa Wonka himself … or do I?
Admittedly, a little bit of cheese does exist at the heart of Dahl's story. The corny twists, however, come with good reason and sound purpose. Whenever I return to this hilarious and heartening tale, I am struck by its subtle (and very British) ability to combine moral and social commentary with a delicious sense of perspective. Along with drooling over the wondrous description of exotic treats, you are also forced to keep your tongue in your cheek, so to speak, as you read about each child's disappearance and appropriate punishment along the way. It's a bit like reading Winnie the Pooh meets Monty Python, resulting in a disturbing joy-ride through a confectionary 100 Acre Wood.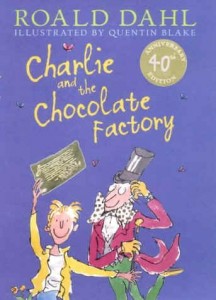 An earnest and loving boy, we find it easy to root for Charlie, who brings his ailing and beloved grandfather with him on this grand adventure. Stomaching the other children (and their parents), however, becomes increasingly difficult. The other "winners" all represent spoiled human nature at their various extremes.
I would argue that in these four other children Dahl evokes a range of the seven deadly sins, known in Latin as superbia, avaritia, luxuria, invidia, gula, ira, acedia, and usually translated as: pride, avarice (or greed), lust, envy, gluttony, wrath and sloth. (Lust may seem a stretch in a children's story, but not if we take it in its larger context of idolatrous desire).
As Dahl's story paints so deftly, no matter how you sugar coat it, these are sins. The children who represent them may do so to the point of caricature, but in our entertained laughing there rings out tremendous gravity and sadness as well. Simply put, these children are annoying. And they are undeserving. Even though they are children, and we try to make amends for their "innocence," or excuses for their "ignorance," we cannot dismiss that they in fact bear the sin of their fathers (and mothers), along with the weight of a culture that insists on trying to make sin "palatable."
However, as the miniature factory workers, otherwise known as the Oompa-Loompas, craftily underscore in the story, when you really bite into such deceit, the center is always rotten: the taste, bitter. This is the meal that never fulfills; such seeming "treats" disappoint. As a result, these morally decayed children, literally spoiled rotten, are at once despicable and yet pathetic. We may feel a little sympathy toward them following their demise, but we certainly don't want to continue the tour with them, either.
The hero Charlie, by contrast, embodies the seven corresponding virtues: humility, charity, chastity, kindness, temperance, patience and diligence. It is no wonder that Charlie is the last child left standing, and the child who will inherit the magical chocolate "kingdom."  The pun is hard to miss: each child receives his "just desserts," and we, as the audience only all too familiar with this world of hunger pangs and hunger games, are left satisfied by the sweet appropriateness of the story.
And so, when Charlie shoots up toward the heavens in the glass elevator at the book's conclusion – heir to the empire and now possessive of an omniscient view – our hearts soar with him. We have ingested the power and the glory, and that makes for the real hidden manna now revealed through the hope in the truly golden ticket.
This is the way the book's world ends, not with a whimper, but a bang – and the promise of a feast!:
So Mr. Wonka and Grandpa Joe and Charlie, taking no notice of their screams, simply pushed the bed into the elevator. They pushed Mr. and Mrs. Bucket in after it. Then they got in themselves. Mr. Wonka pressed a button. The doors closed. Grandma Georgina screamed. And the elevator rose up off the floor and shot through the hole in the roof, out into the open sky.
Charlie climbed onto the bed and tried to calm the three old people who were still petrified with fear. "Please don't be frightened," he said. "It's quite safe. And we're going to the most wonderful place in the world!"
"Charlie's right," said Grandpa Joe.
"Will there be anything to eat when we get there?" asked Grandma Josephine. "I'm starving! The whole family is starving!"
"Anything to eat?" cried Charlie, laughing. "Oh, you just wait and see!"