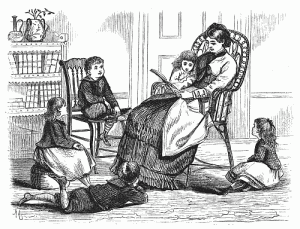 Post #2  in the Read-Along Children's Chapter Book Series
Many thanks to those of you who happily shared suggestions for children's chapter books with me. These are wonderful! I feel like a kid in a candy store! Or, like an adult in a bookstore (my equivalent) while eating candy (especially the pregnancy cravings for chocolate and licorice!).
Here is a list I've compiled of the recommendations thus far. I have checked and each one is available through Amazon, although we continue to have great luck when it comes to foraging around second hand shops. I think the list poses a wonderful mix of classics and perhaps less known treasures, along with a great range of topics, with an appeal to boys and girls. Our interest is certainly piqued. This is sure to keep us entertained throughout the summer!
For those of you who'd like to join us and read along in tandem, I will try to post in advance what we are reading each week. Currently, by popular demand, we are about to revisit Black Beauty, since my daughter cannot get enough about horses right now.
Enjoy!
Author                                     Book(s)
Anna Sewell                             Black Beauty
Roald Dahl                               Fantastic Mr. Fox; Charlie and the Chocolate Factory
Thorton Burgess                       The Adventures of Danny Meadow Mouse
Frances H. Burnett                   The Secret Garden; The Little Princess
C. S. Lewis                               The Narnia Chronicles (beginning with The Lion, the Witch and the Wardrobe, of course!)
George Macdonald                    The Princess and the Goblin
L. M. Montgomery                   Anne of Green Gables
Andrew Peterson                      The Wingfeather books
Astrid Lindgren                        Pippi Longstocking
Eric Sloane                               Diary of an Early American Boy: Noah Blake 1805
Kenneth Grahame                    The Wind in the Willows
Hannah Hurnard                       Hinds Feet on High Places
Laura Ingalls Wilder                 Little House on the Prairie series (Farmer Boy comes as idea for boys)
Mary Dodge                              Hans Brinker
Meindert DeJong                      The Wheel on the School
Jean Craighead George  My Side of the Mountain
J.R.R. Tolkien                          The Hobbit
Mary Norton                             The Borrowers
Sydney Taylor              All-of-a-Kind-Family
Dorothy Canfield Fisher            Understood Betsy
Hugh Lofting                           Dr. Doolittle
Richard Atwater                       Mr. Poppers Penguins
Marguerite Henry                     series of horse stories, e.g. King of the Wind
Wilson Rawls                           Summer of the Monkies; Where the Red Fern Grows
Betty Macdonald                      Mrs. Piggle-Wiggle
Beverly Cleary                          Ramona the Pest
Emily Jenkins                           Toys Go Out
Marie Lyons Kililea                  Karen
Carol R. Brink                          Caddie Woodlawn
James Herriot                           All Creatures Great and Small
Edward Eager                           Half Magic
E.B. White                               Charlotte's Web; The Trumpet of the Swan; Stuart Little
L. Frank Baum                         the Oz books
Brian Jacques                           the Redwall series
Sterling North                          Rascal
Lloyd Alexander                       The Prydain Chronicles
William Pene du Boise The Twenty-One Balloons
Madeleine L'Engle                    A Wrinkle in Time (and the Time series)
Susan Cooper                           The Dark Is Rising series
Lois Lowry                               Number the Stars
J. K. Rowling                           Harry Potter series
Linda Buckley Archer               Gideon the Cutpurse series
Norton Juster                            The Phantom Tollbooth
Janusz Korczak             King Matt the First
Mike Mason                                   The Blue Umbrella; The Violet Flash